Tuberculosis Caused by Smoking Shisha
Tuberculosis Caused by Smoking Shisha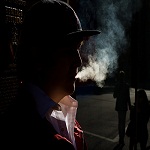 Shisha smoking has been practiced for over 400 years, and it is often a social activity. There are a variety of names for shisha, such as narghile, argileh, hookah, hubble-bubble, and goza. Shisha tobacco is available in many flavours including apple, grape, mint and cappuccino.
Tobacco on a shisha smoke poses as a serious health risk to the smoker and to other people who are exposed to the smoke emitted by shisha. A shisha smoke contains many toxic that are known to cause a lung cancer, heart disease, tuberculosis and other health complications. Even if it is passed through the water pipes, the smoke contains high levels of toxic compounds, including carbon monoxide, heavy metals, and cancer-causing chemicals. Although many shisha smokers believe that this habit is less harmful than smoking cigarettes, but as a matter of fact shisha smoke still contains nicotine and many toxins as cigarette smoke.
In Middle East countries, the outbreak of tuberculosis was linked to smoking shisha. The carbon monoxide from coal is approximately thirty times more difficult to dissolve in water than in oxygen. In a single smoking session, you can inhale up to two hundred times of smoke more than on a cigarette. The more you smoke shisha the higher level of toxins and nicotine you take.
According to the study of the University of California in Berkeley, smoking shisha and cigarette is a major risk factor of tuberculosis (TB). The study asserts that smokers have seventy three percent higher risk of becoming infected by tuberculosis than non-smokers. It is a well known fact that there is a significant association between shisha smoking and tuberculosis.
A recent study states that fifty-six sticks of cigarettes are equal to forty-five minutes session of smoking shisha. In that study, researchers examined the smokers as they smoked shisha for forty-five minutes which is the length of an average shisha smoking session and then the next day the researchers also examined the smokers who smoke cigarette for forty-five minutes. The researchers used pressure sensors to measure how much smoke each person inhaled, and the result is that the cigarette smoking group inhaled 1.1 liter of smoke, while the shisha group inhaled 61.6 liters of smoke.
Thomas Eissenberg, Ph.D., Director of Clinical Behavioral Pharmacology at Virginia Commonwealth University said that "Shisha tobacco contains the addictive drug called nicotine so users run the risk of getting hooked. The more comfortable users are smoking from the pipe, the more smoke they inhale." The risks don't stop there either: water pipes are also a carrier of viruses like herpes, hepatitis, and tuberculosis that is according to the study of a Danish researcher.
Regular shisha smokers have lung functions approximately twenty-five percent lower than those who do not smoke shisha. Another study has shown that smoking shisha increases the risk of pulmonary tuberculosis. Shisha smokers should be aware of the fact that when smoke goes through water, humidity in the smoke increases and it then tends to stay for a longer period of time in the lungs. Some germs, mainly bacteria that cause tuberculosis, live in the shisha pipe.
Shisha smoking is increasingly emerging as a significant health risk in Egypt, due to tuberculosis transmission from pipe sharing and uncontrolled manual preparation of shisha pipe. The World Health Organization (WHO) regional office in Cairo estimates that seventeen percent of tuberculosis cases in the Eastern Mediterranean are linked to smoking of shisha. According to the latest World Health Organization statistics in Egypt, thirty-one point six percent in every 100,000 people had tuberculosis in 2005, and the rate of the new tuberculosis cases that year was estimated at 25 per 100,000 people.
The risks or acquiring tuberculosis outweighs the pleasures from smoking shisha; so it is better to stay off shisha smoking rather than a lifelong hardship of a dreaded disease.
Image by Flickr